Transport & storage

We have a storage area for short-term and long-term storage.

We provide comprehensive logistics solutions and related services exactly according to customer requirements.

Substitute performance

We employ people with disabilities who would not have a chance to enter the regular labor market.

We meet the condition of employing more than 50% of PWD, in the sense of Act No. 435/2004.

Documents to download

All documents are available for download or viewing online.

ESHOP - 

work clothes

Work clothes, protective equipment at great prices and quick delivery. We offer REPLACEMENT PERFORMANCE for the entire range.
FOKUS BOHEMIA is a major employer in the field of long-term support for people with disabilities. According to Act No. 435/2004 Coll. meets the conditions for the provision of REPLACEMENT BENEFITS for all services provided. FOKUS BOHEMIA is a certified company according to the ČSN EN ISO 9001: 2016 standard and is a supplier of mainly components for the automotive industry.
REPLACEMENT BENEFIT PROVIDER in the sense of Act No. 435/2004 Coll.
v & 81 - 84.
We have long-term cooperation with non-profit organizations to support people with disabilities.
CERTIFICATION ČSN EN ISO 9001: 2016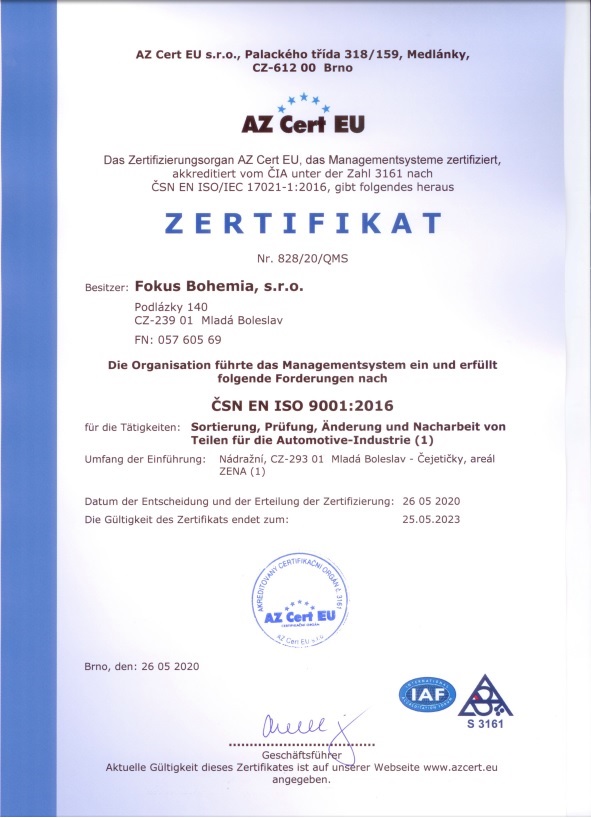 SIGNIFICANT EMPLOYER OF DISABLED PERSONS
Fokus Bohemia was founded in 2016 as a first-class family business employing only a few employees. Over time, the company grew and with the arrival of new foreign customers from the predominantly automotive industry, it became an interesting and sought-after partner in the field of employment of people with disabilities. Providing first-class production processes with a technologically advanced, tailor-made background.
MAIN PRODUCTION ACTIVITIES:
production of cable harnesses

cutting and carving of PVC materials

machining, welding, bending

assembly, sorting of connecting materials

assembly of electrical circuit breakers and small components

spare parts packaging

industrial textile production - serial sewing

rework work

and more
According to the order specification and client requirements
production programs for clients in the plant (sorting, assembly, inspection, rework, securing lines, including management)

relocation of production lines, processes to our premises, including disassembly and assembly
MANUFACTURE OF CABLE HARNESSES

The design of the product is made on the basis of the customer's requirements, according to his drawing documentation or reference sample. The production is then realized only after the approval of the prototype type. We are able to recommend to customers suitable material and work procedure to achieve the required high quality survey at a low price. 

Products:

cable harnesses in medium series

custom production for small series

mounting and soldering

insulation materials

cable confection

Packing and shipping:

we pack the finished products in antistatic packaging and send them to you in a transport box secured against damage

Fast implementation:

we focus on medium-sized series production.

According to the customer's request, in the event of an acute problem, we are able to ship within 24 hours of ordering.

MACHINING, WELDING, BENDING

In cooperation with the customer, we can provide machining, welding, bending on CNC milling machines. According to the customer's request, we can tailor the production program. We provide this activity only with the possibility of relocating a certain production technology of the customer to our production plant. Including disassembly and assembly.

Production of visible parts for AUTOMOTIVE with 100% output control.

Products:

airback pockets

towbar packaging

welding of plastics, especially PP, PE and PVC

Packaging, costs:

precise processing with production experience for AUTOMOTIVE

production of visible parts with 100% output control

we provide including packaging, labeling, storage, transport

Certification ČSN EN ISO 9001: 2016

FASTENER ASSEMBLY, CLASSIFICATION & SPARE PARTS PACKAGING

Completion, sorting:

We specialize in packaging, assembly and sorting of simple and demanding manual activities. We can secure the order in our centers or in your office. We can provide a complete service by ordering input materials, ensuring storage, regular delivery to the customer in the required quantity and interval.

services available 24/7

inspection, sorting and assembly work

product assembly

surface treatment of material, grinding

Spare parts packaging:

packaging of products in cartons, including delivery of packaging material

printing and labeling

assembly of goods for delivery

Services available 24/7

We provide material transport with our own fleet

COMPLEX TEXTILE PRODUCTION - SERIAL SEWING

We work on the basis of cooperation with direct manufacturers. We procure production material according to the customer's previous specifications directly from the supplier at our own expense or we sew finished products from the materials supplied by the customer, which we ship by our own transport within the required deadline. We provide production from airback packaging to seat belts.

We use high quality sewing and embroidery threads for the automotive industry

Products:

airback pockets

towbar packaging

interior carpets

and more

Technology:

digitization of parts and folding of cutting positions

sewing on modern single and double needle industrial sewing machines brand Garudan

sewing documented airbag seams

 

CUTTING AND CUTTING OF PVC MATERIALS & REWORK WORKS

Cutting and carving of PVC materials:

We can start production after handing over all the necessary documents that are necessary for the elaboration of the order and confirmation of the proofreading, which we will send to you for approval. We are able to cut any shapes according to your specifications.

Rework:

We can arrange it directly at the customer or in our center. Possibility to start activities within 24 hours. Material transport provided by our own fleet. Available 24/7.

Advantages of cooperation:

low price

provision of substitute performance

high flexibility

Certification ČSN EN ISO 9001: 2016
Substitute performance is regulated by the Employment Act No. 435/2004 Coll.
in § 81- 84.
Substitute performance is another way of fulfilling the legal obligation to employ 1 person with a disability for every 25 employees, ie 4% of the total number of employees. If you do not employ the required number of employees with disabilities yourself, you can fulfill this obligation by taking products, goods or services from organizations that employ more than 50% of employees with disabilities.
There are three ways to meet the mandatory share:
•    
employ PWD in the proportion of at least 4% of the total number of employees
•    
to pay 2.5 average wages for each unemployed PWD to the state budget
•    
substitute performance, ie to take products or services from employers with more than 50% employees with disabilities.
By combining the three previous ways.
If the employer buys goods and services as a substitute, he saves up to 35% of the purchase price of products or services purchased as a substitute.
The company Fokus Bohemia, s.r.o. employs more than 50% of PWD. We can therefore provide you with high quality services and products as a replacement.
Calculator for calculating the substitute performance for the year 2022
Kalkulačka pro výpočet dávek v roce 2022 (mpsv.cz)
Advantages of drawing on substitute performance:
•    y
ou are simply dealing with a legal obligation
•    y
ou achieve cost savings
•    y
ou employ specific people with disabilities
•    y
ou help employers provide good working conditions for the disabled
Fokus Bohemia, s.r.o.

Nádražní - areál ZENA

293 01 Mladá Boleslav

T: +420 770 666 711

IČO: 05760569, DIČ: CZ05760569

Bankovní spojení CZK: 4477747329/0800

Bankovní spojení EUR: 1955660233/0800

Pojištění: 5.000.000,- Kč

Spisová značka: C270285 vedená u Městského soudu v Praze